The so-called healthy cereal diet not recommended on low-carb lifestyle
This
New Jersey Star-Ledger story
about the new dietary claims of these so-called "healthy, whole grain" cereals on the market today ignores one of the most important elements people need to be aware of about these products -- excessive carbohydrates!
The weight loss claims made by the manufacturers of cereals such as
Special K
from Kellogg's and
Raisin Bran
from Post are out there in full force. They are being marketed to consumers as the latest solution to weight and health problems. It really has become the new "weight-loss craze," according to the article.
Hoping to take advantage of a desperate group of people who long for weight loss, these cereal diets urge people to eat their cereal products twice a day with low-fat milk and fruit and boldly proclaim that people will shed the pounds.
Strong statements indeed. Whether they are true or not remains to be seen. But the manufacturers of these cereals don't care as long as their "we're healthy" message for these cereals is resonating with the consumer.
"Sales have gone up, and we've seen gains in the way consumers think of our brand. They think of Special K as a brand that helps them manage their weight," said a representative for Special K.
Yet, is it true? Does simply eating two bowls of this cereal a day for six weeks alone shed 10 pounds as they claim? I'm sure if this cereal diet was supplemented with a low-fat/1500-calories a day/portion control diet that people could probably lose 2-3 pounds a week on it.
However, people who are livin' la vida low-carb may be thinking that they should start eating these "healthy" cereals as part of their low-carb diet. But this would be a detrimental mistake for low-carbers to make since these cereals are high-carb.
Check out the nutritional label for Special K:
While you will notice this cereal if fat-free, it is LOADED with 22g carbohydrates. Not good when you are low-carbin' it!
Now, let's look at the Raisin Bran nutritional label:
Again, you will notice this cereal is low in fat with just two grams, but YIKES, look at the carb content -- 47 grams!!! Whoa! This cereal is NOT healthy for you on a low-carb program and will quickly derail you from being the success you want to be in your weight loss efforts. Don't scratch your head wondering why your weight loss stopped if you start eating these cereals just because they're being marketed as "healthy!"
Not surprising, the column notes that nutritionists support these cereal diets. Well, gee, I wonder why? Could it be because they are LOW-FAT?!?!?! Although they are skeptical that people can stick with a diet like this because of boredom and don't think people will limit their cereal intake for one meal to the serving size of a half-cup to a full cup. But many people eat a GIANT BOWL of cereal like Jethro Clampett used to have on
The Beverly Hillbillies
!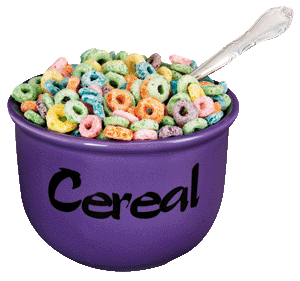 Have you ever eaten a bowl of cereal this big? I have!
Actually, the cereal diet is just as bad for you as Slim-Fast and other "meal-replacement" diets out there. If you are wanting to restrict your fat and calories to lose weight, then perhaps this would work for you. But this is a recipe for disaster if you are livin' la vida low-carb. Avoid eating cereals like this if you have committed yourself to the low-carb lifestyle.
This article takes a quick pot shot at low-carb diets by stating that the nutritionists who love these cereal diets so much say they are better than the low-carb diets because it is a return to grains and fiber since people didn't eat bread and cereal on low-carb.
Oh, give me a break people! The
whole grain craze
is pretty lame-brained if you ask me. There are MANY excellent low-carb versions of breads and cereals out there (I'll be reviewing a new low-carb cereal I'm currently trying sometime over the next week). This myth that low-carbers don't get enough grains and fiber is simply absurd.
The cereal companies contend their weight loss claims are backed by scientific studies, although information about these studies is scarce and the supposed weight loss that real people are seeing is suspect at best.
Thankfully, at the end of the column, a real consumer made some pretty intriguing comments about these cereal diets. She said she tried it for a few days, but found it incredibly impractical for her busy lifestyle. She insinuates in her comments that the carbohydrates in the cereal make you get hungrier quicker than the satisfying low-carb foods.
"You would end up at Burger King by late afternoon," the consumer stated.
Yikes! And THAT is exactly why these cereal diets won't work. They don't satiate your hunger and you end up getting hungrier quicker after eating all those carbohydrates. When you are trying to lose weight, this is NOT good.
So why waste you time on a diet that's gonna restrict you to one kind of food for two meals a day and will not satisfy your hunger? Instead, start
livin' la vida low-carb
and eat better-tasting foods that will satisfy you and help you meet your weight loss goals much quicker and easier than you ever thought possible.