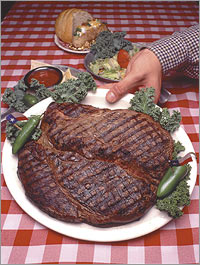 I'm supposed to shun steak for the Great American Meatout? Yeah right!
This
Belleville (IL) News-Democrat column
asks the question, "Can you eat like a vegetarian?"
In a word, NO! Nyet! No way! Not a chance! Hell will freeze over first!
Can you tell I'm a lover of meat? I don't feel a bit ashamed of that and I have nothing against anyone who chooses to refrain from eating meat. I may even drive over to Burger King to get
one of these
.
But I do have a problem with someone telling me I shouldn't eat meat or tries to
make me feel guilty
for doing so. That's exactly what is happening on Monday, March 20, 2006 with the vegetarian-led
Great American Meatout
.
Have you heard of this before? Apparently it's been around for two decades and urges people to not eat meat on the first day of Spring to bring awareness to "the vegetarian way."
Forgive me for being so blunt, but I don't care a bit in the world what it's like to be a vegetarian! If I did, then I would start eating that way on my own. Setting aside one day out of the year to "experience" vegetarianism serves no purpose whatsoever in my opinion.
The official web site for the Meatout states that people from around the world come together in the name of "a wholesome, nonviolent diet of fruits, vegetables, whole grains ... to expose the public to the joys and benefits of a plant-based diet, while promoting the availability and selection of meat and dairy alternatives in mainstream grocery stores, restaurants, and catering operations."
"Kick the meat habit on March 20 and explore a wholesome, nonviolent diet of fruits, vegetables and whole grains," according to the web site.
Sponsored by the
Farm Animal Reform Movement
, this event calls for people who support their cause to set up tables near fast food restaurants to "show visitors that compassionate veg diets can also be delicious and convenient!"
The story says the vegetarians involved in the Great American Meatout "promise to fight the Atkins Diet."
Oh really? How are they gonna do that? Hmmm? Did you know there are a lot of
vegetarians on the Atkins diet
?
While I admire their passion for their way of eating, I don't appreciate the insinuation that there's something inherently wrong with eating meat. If that's my lifestyle choice as part of my Atkins diet experience, then it shouldn't be any of your business what I do. It just so happens that I lost a lot of weight by livin' la vida low-carb and I am keeping it off by eating lots of tender, juicy hamburgers, chicken, steaks, turkey and more thank you very much!
In explaining why there needs to be a Meatout, the web site lists the following reasons:
"Kicking the meat habit reduces our risk of heart disease, stroke, cancer, and other chronic diseases that cripple and kill nearly 1.4 million Americans annually."
I hate to break it to you, but it's not the meat causing these problems. I think you need to have a Sugarout if you want to get to the bottom of those problems.
"Kicking the meat habit decreases our exposure to infectious pathogens like Salmonella, E. coli, and Campylobacter, which kill several thousand Americans annually and sicken millions more."
If the meat is so tainted as you claim, then how in the world is it being sold to people in this day and age of mad cow disease? The safety of meat in the United States is one thing you can count on for sure.
"Kicking the meat habit raises our energy level, lowers our food budget, and simplifies food preparation and cleanup."
Raise energy levels? Um, weight loss did that for me while EATING meat. While meat may cost a little money, it is so worth it! As for food preparation and cleanup, it's a breeze, especially when you are grilling steaks on the barbie! Mmmmm!
"Kicking the meat habit frees up grains and other foods that can be used to feed the world's hungry. Animals are extremely inefficient "protein converters;" it can take up to 16 pounds of grain to make 1 pound of beef."
Trust me, there would still be a hunger problem around the world even if we freed up all that grain to be shipped to these starving countries. It's not like there is a zero sum gain on the food raised to feed cattle, chickens and pigs. If farmers want to raise more grain for the starving kids in Africa, then they could do it.
"Kicking the meat habit preserves our topsoil, water, and other food production resources vital to the survival of our children and their children."
Say what? How so? It seems to me if we go to more plant growing to accomodate worldwide vegetarianism for everyone that we would be doing MORE damage to topsoil, water and other food production resources than what we are doing now. This one doesn't make sense to me.
"Kicking the meat habit protects our forests, grasslands, and other wildlife habitats from encroachment by cattle ranchers while reducing the polluting effects of methane, soil particles, manure, and pesticides on our air and water."
Oh, those evil cattle ranchers! They are so maniacal that they would come in and destroy the precious homes of the little animals in the woods while spewing poison into the ground, water and air. Puhleez! These people choose to make their living in this manner and should not be demonized for doing so. They are great people providing a necessary service to meet the growing demand for meat. If the demand stopped, then so would the meat industry.
"Kicking the meat habit saves animals from caging, crowding, deprivation, drugging, mutilation, manhandling, and agonizing slaughter. Each person who adopts a plant-based diet saves over 80 innocent, sentient animals each year. Over a lifetime, an individual can save more than 6,000 animals just by going vegan."
I'm not interested in saving animals. Vegetarians and vegans might call me cruel for taking that position, but I've been called worse. It is my belief that God gave humans dominion over the animals so they can be used to provide nourishment for families. This idea that every single animal that is used to make the meat we enjoy "suffers" is a big load of you know what. Standards are in place to ensure the humane and proper handling is used with these animals.
With all that said, are you going to participate in the Great American Meatout on Monday? I think I'll take a pass on it, but I will still commemorate the first day of Spring with a succulent seared steak grilled medium well. Here's to the Meatout! Mmmmm, meaty!
Let's hope we don't see anything
like this
during the Great American Meatout! :-~