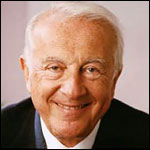 Dr. Joel Fuhrman digging up the grave of the late Dr. Atkins...AGAIN!
I've been reading a couple of books by a health and nutrition author named
Dr. Joel Fuhrman
recently that I will be writing a review of at my blog in the next couple of weeks.
But after reading what Dr. Fuhrman wrote in
this recent post
on his
DiseaseProof blog
last week regarding the circumstances surrounding the death of the creator of the Atkins diet, Dr. Robert C. Atkins, I felt strongly compelled to respond.
In his post entitled
"Examining Dr. Atkins' Death,"
Dr. Fuhrman said the whitewashing by certain people of how and why Dr. Atkins died over two years ago is "distorting the facts" about what really happened.
"Before Dr. Atkins was hospitalized near the end of his life, he weighed about 200 pounds. Atkins' medical record showed he had atherosclerosis, coronary artery disease, had suffered from a previous heart attack, and had high blood pressure. However, many would have you believe he was merely a healthy guy who died after slipping on a patch of ice."
Can you still believe this is such a heated subject of controversy in the year 2006 -- 27 months after it happened?
NEWSFLASH, Dr. Fuhrman: Dr. Atkins has passed on to meet his Creator and cannot stand up against people like you who continue to run his name and reputation through the dirt just because you don't agree with his dietary principles. Since he is no longer around to defend his good name, I will be MORE THAN HAPPY to stand up for him!
How insulting is it for the condition of his health and tragic death of Dr. Atkins being discussed in such a derogatory manner when he's been dead now for over two years?! CAN'T YOU JUST LET THE MAN REST IN PEACE ALREADY!!!
Okay, now that I've got that off my chest, let's address this issue of Dr. Atkins and his health at the time of his death. The fact that the personal medical records of Dr. Atkins were illegally distributed to the media within hours of his death who gladly released them to the public almost immediately without the permission of his grieving wife was utterly despicable!
"I am sure that any one of you would be offended and perhaps even horrified to have complete strangers intrude into your personal family matters, especially with regard to something as intimate as your medical records or those of your loved one," Mrs. Veronica Atkins said in a statement just days after her husband died after suffering complications from a slip and fall accident in New York City.
Mrs. Atkins explains in that statement about her late husband's weakened heart that it was due to an infection, not his diet. Several medical professionals and cardiologists confirmed that the diet promoted and engaged in by Dr. Atkins was NOT the source of his condition. PERIOD! End of story! Why must this question keep coming up when it's already been settled?
"I look forward to the day when Dr. Atkins' soul can rest in peace and I can grieve uninterrupted," Mrs. Atkins wrote at the end of her statement on February 9, 2004.
Unfortunately, Mrs. Atkins we've got imbecils like Dr. Fuhrman who refuse to let it go because he's so deeply in bed with the radical anti-Atkins diet group Physicians Committee For Responsible Medicine (
PCRM
), an offspring of the extreme animal rights/vegan movement group People For The Ethical Treatment of Animals (
PETA
).
You might recall this is the same group that is supporting opportunist
Jody Gorran
's frivilous lawsuit against Atkins Nutritionals. Are you seeing the connection here? Dr. Fuhrman supports the work of PCRM who backs Gorran who is opposed to Atkins -- ERGO, Dr. Fuhrman must be against Dr. Atkins and everything he stood for as well. Ding ding ding, I think we have a winner here!
Want more evidence? Just take a look at who PCRM has listed as a
"member physician"
in their organization. GASP! What a surprise?! NOT! Hmm, do ya think Dr. Fuhrman's got some friends in PCRM he's trying to impress with his negative comments about Dr. Atkins? Me thinks he does!
In my review of his books so far, Dr. Fuhrman describes the Atkins diet,
The Zone
diet by Dr. Barry Sears and
The Protein Power
diet by Drs. Michael and Mary Eades as "the most dangerous" ones for people to follow. Oh yeah, this vegetarian nut is gonna be unbiased in his opinions about Dr. Atkins, isn't he?! Sheeeeeez! And he actually expects us to take him seriously? Ha!
Now that you know where Dr. Fuhrman is coming from, keep that in mind with the rest of his comments about Dr. Atkins and the Atkins diet.
Claiming he had a patient who was a friend of Dr. Atkins and suffered from "severe coronary artery disease which he developed on the Atkins diet," Dr. Fuhrman said he cured this patient by taking him off of low-carb and putting him on a plant-based diet.
Sharing suspicious third-party information from this patient who just conveniently happened to have the same cardiologist as Dr. Atkins, Dr. Fuhrman said his patient told him that his cardiologist revealed that Dr. Atkins actually had a heart attack which caused his fall on the ice. He said, she said, that he said...say what?!
Have you ever heard of the phrase "grasping at straws?" Do ya think Dr. Fuhrman and his "patient" are reaching hard for something bad to say about Dr. Atkins?! Give me a break, Dr. Fuhrman! Is that REALLY the best you can come up with?!
Claiming that Mrs. Atkins "quickly switched cardiologists to find one who would aid in the cover-up," Dr. Fuhrman continued his fantasyland rant about how awful it is for people to be eating a meat-based diet because look what it did to the guy who came up with that kind of a diet.
"The only point to be made here is these guys advocating a high meat diet are unfortunately hurting themselves too, not just their followers, but it is a shame that people have to suffer and even die needlessly from the advice of these high-meat advocates."
If the premise of Dr. Fuhrman's comments wasn't so laughable it would be quickly dismissed without comment. But for him to make the giant leap that the death of Dr. Atkins proves his diet is no longer viable for people to follow for weight loss and health is like saying the passing of Johnny Cash means country music has run its course and people should only listen to rock & roll now.
Preposterous! Idiotic! Nonsensical!
Hey Dr. Fuhrman, I've got some news for you. There are lots of real life examples living out here in the real world who are more than willing to tell you how much our lives have been changed by that same Dr. Atkins you so willfully malign with your ignorant statements against him and his diet.
I've got news for you, buster! If it wasn't for the great work conducted by Dr. Robert C. Atkins on the low-carb lifestyle, then I would have NEVER been able to lose nearly 200 pounds like I did two years ago and then keep it off by continuing to apply the principles that this intelligent man laid out in his books.
Where would I be today without the Atkins diet? High blood pressure, high cholesterol, breathing problems, diabetes, weighing over 500 pounds, no sex life, no social life, sitting in front of a television moping about my health, feeling depressed that I haven't been able to find a way to lose weight, suicidal, or even six feet under in a premature death due to my morbid obesity. ALL OF THAT WAS AVOIDED BECAUSE I WENT ON THE ATKINS DIET, DR. FUHRMAN!!!
While it is obvious to everyone that you personally dislike the healthy nutritional approach advocated by Dr. Atkins, it is simply reprehensible for people like you to resort to such vile and vicious personal attacks against a man who will forever be remembered and revered as a maverick revolutionary in the field of diet and nutrition. As long as I have breath to breathe and continue to enjoy the outstanding health that I now have thanks to the Atkins diet, I will say it loud and say it proud that the Atkins way of life is a healthy alternative to the
failed low-fat diet approach
we have been LIED TO about for decades.
Livin' la vida low-carb worked for me and I'll never be the same again because of it. Neglecting to point out the countless positive success stories of the Atkins Nutritional Approach like mine that exist in the world today, Dr. Fuhrman, is short-sighted and narrow-minded. Perhaps you should do just a little more research on the subject the next time you decide to go off on a tangent on something you obviously know little to nothing about.
Dr. Joel Fuhrman does not have a direct e-mail address, but you can get an e-mail to him at
customerservice@drfuhrman.com
. Or, you can contact him at this
contact page
from his web site with his address and telephone number if you wish to share with him your feedback about his comments against Dr. Atkins and the Atkins diet.
I think Dr. Fuhrman will be in for a rude awakening about the number of people like me who have been changed for the better because of one Dr. Robert C. Atkins. God rest his soul and may he FINALLY rest in peace!