Once you've had SweetRiot, chocolate will never be the same again!
If you read my blog, then you KNOW how much I love and adore chocolate. There is no doubt in my mind how I ended up weighing over 400 pounds at one point in my life because I thought I could enjoy the taste of chocolate without any consequences. Instead, I made poor choices about the kind of chocolate I was consuming and so are most other people in the United States.
That's why I was excited to learn about a company who went back to the roots of chocolate...literally! While the vast majority of the chocolate products manufactured and sold in the U.S. are heavily processed and loaded with way too much sugar for the body to be consuming (ergo, the obesity problem we are having to deal with), a New York-based company called
SweetRiot
is attempting to change that.
SweetRiot believes there are better ways to enjoy chocolate than the junk that is on the market today. To enjoy chocolate in the purest form possible, it must be consumed like it was hundreds of years ago -- in the form of the
cacao bean
. Imported directly from an exclusive partner in Latin America around 20 degrees from the Equator, these cacao beans are the real deal.
My first thought when I heard these SweetRiot products were made from cacao bean nibs was EWWWWWW! I bet they taste pretty gross. Boy was I wrong!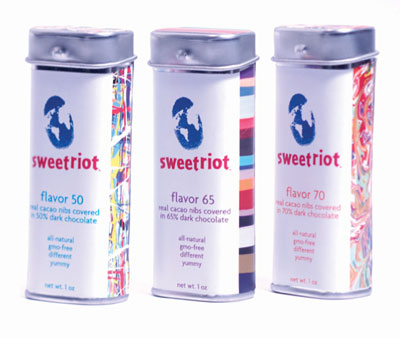 These SweetRiot cacao beans are covered with dark chocolate and come in three different flavor strengths:
Flavor 50 - sweet dark chocolate akin to milk chocolate
Flavor 65 - classic dark chocolate flavor
Flavor 70 - the darkest of dark chocolate with a taste of espresso
Interestingly, they all contain 100% cacao in the middle which gives you the most unique chocolate flavor you have ever put in your mouth. I had no idea just how good chocolate tasted until I bit into a cacao bean for myself. SweetRiot has come up with one of the freshest new products that I have seen in a very long time.
The company is only months old led by "Mastermind & Chief Rioter"
Sarah Endline
, but SweetRiot has already been named a Finalist for "Most Innovative Product" at Expo East 2005, the largest natural products show on the East Coast. Pretty impressive for a company just getting off the ground, wouldn't you say?
Okay, I know what you're wondering. What is the nutritional content of these SweetRiot products? How much sugar is in them? Can I eat them if I am livin' la vida low-carb?
You'll be pleased to know the answer to your questions are surprisingly -- YES!!!
These little morsels of cacao goodness which come in these cute little one-ounce containers have 140 calories, 12g fat, and up to 10g sugar. Now before you go throwing a brick at my head for suggesting you eat a product that has so much sugar in it, hear me out on this. Those numbers I just quoted you are FOR THE ENTIRE PACKAGE!!!
In other words, you are only talking about 1-2 calories per piece and microscopic amounts of fat and sugar. Trust me, you won't be eating the whole container in one setting and don't even try to. They will quickly replace those sugar-laden chocolate bars and truffles that easily contain 50-75g carbs in them that are decidedly unhealthy for you. Choosing SweetRiot instead gives you the chocolate treat you want and desire without the guilt.
I quickly found out that I only needed to eat about 4-5 of the SweetRiot cacao nibs to satisfy my chocolate tooth. These bad boys are very potent and enjoyable, too! Well, most of them...
When I decided to try each of the flavors, I wanted you to see my reaction to tasting each one:
I started off putting a few of the SweetRiot chocolate-covered nibs on my tongue first. Swishing them around in my mouth a few times, I then decided it was time to take the plunge and bite into them for the very first time.
My first experience with SweetRiot was the Flavor 50 and here's what I thought:
Mmmmm, milk chocolately but unlike anything I've ever put in my mouth before. Slightly crunchy but strangely familiar. Although this was dark chocolate surrounding the cacao bean nib, it was very similar to what we refer to as milk chocolate.
Then I moved on to a little stronger SweetRiot product with Flavor 65:
As I chewed away on the rich, dark flavor of this one, I was reminded of the Special dark chocolate that I used to love as a kid. But this was way better than that and had just enough of a kick with only a few pieces to keep my mouth happy.
Finally, I popped a few of the Flavor 70 in my mouth and was quite surprised:
What in the world have I just eaten?! After a few sourpuss chomps on this flavor, I quickly realized this was not gonna be a flavor that I would enjoy since I do not like coffee. For people who like the taste of coffee, then you'll love it, though. I drank about a gallon of water to wash that flavor out of my mouth and quickly reached for some Flavor 50 to bring a smile to my face again. :)
These SweetRiot products are dairy-free, kosher, gluten-free and all-natural. In case you are wondering, the cacao bean nibs in the SweetRiot products are not raw, but rather roasted at 120 degrees. But, unlike the coffee bean, the cacao bean does not contain caffeine in it. Who needs caffeine, though, when you've got the REAL taste of chocolate as it was intended to be enjoyed.
Wanna see how quirky these SweetRiot people can be? Check out some of their activities at the
SweetRiot blog
where you can read all about their interesting excursions (they recently took their riot to the set of
Emeril
with a surprising response!).
Are you ready to start a riot for yourself? Rioting for cacao sounds like a splendid idea and I highly suggest you swing right over to
their online store
right now and try some of this amazing SweetRiot product for yourself. Then grab yourself a
SweetRiot T-shirt
(I gotta get me one of these!) and start a riot in your community of family and friends, too!
Might I suggest you try the Spring Fling package first to sample all three flavors for yourself. This nifty package has each of the three SweetRiot flavors and makes for the PERFECT gift for the chocolate lover in your life. They'll never know what hit 'em once they've had SweetRiot and tasted cacao beans for the first time ever!
You can tell 'em it's SweetRiot and they'll never go back to their old chocolate ever again! Rioters unite and take this message to the world. Look out because here we come!