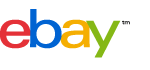 My "Livin' La Vida Low-Carb" book popped up on eBay this week
All kinds of items show up on the popular online auction site
eBay.com
all the time, so I guess it had to happen eventually.
A seller named
bestsellerbooksdirect
has listed 3 copies of my book "Livin' La Vida Low-Carb" in an
auction running through May 17, 2006
.
The seller has it available to "Buy It Now" for $11.87, but there's a catch. The shipping cost is $9.47 which brings the grand total of the book to $21.34. That's even higher than my
$16.50 (plus shipping) Amazon.com listing of my book
and I'm offering to autograph it and even write a personalized note of encouragement in the ones I'm selling! :)
But I'm happy to see my book has attracted the attention of at least one seller on eBay. My wife Christine tells me I need to remember all these little moments like being listed on eBay to recollect someday on this amazing period of time in my life. I keep reminding her that I never expect these kinds of moments to STOP happening. :D
As long as I'm livin' la vida low-carb and keeping myself accountable with activities like writing books and blogging, I WILL keep my weight off for the rest of my life and continue making memories to last a lifetime. That's one of the reasons why I keep doing what I'm doing. Good things are bound to keep happening and I am thrilled to be able to experience them all.
Oprah? Oh, Oprah? Or how about
Maury Povich
? Can you pleeeeease call now?! Can't you just give a man a chance to share his story, huh, huh, how about it? I'd love to have a
tummy tuck
and you guys can make that wish come true! Can you hear me? Eh? Hello?