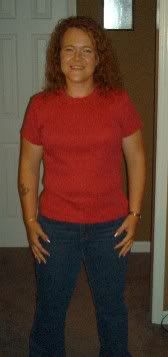 Shayne Sherbert went from a size 24 to size 10 by eating low-carb
There's nothing better for people who are trying to lose weight by livin' la vida low-carb than to hear about someone else who has been through the same pain, struggle, and agony of being overweight or obese and changing their lives forever.
That's exactly what my friend and faithful blog reader Shayne Sherbert has done. This North Carolina beauty who once weighed as much as 280 pounds in a size 24 is now down nearly 100 pounds and fits into a size 10. WOO HOO, way to go Shayne! There's no greater feeling than this when you have struggled with your weight your entire life.
Read more about what all Shayne has gone through as she went through her low-carb weight loss experience at her
journal page on the LowCarbScoop.com forum
. For the
Cliff's Notes
version of her story,
click here
.
Like most of us who have had a weight problem, Shayne has had her share of problems that led to her weight. But it seems she has had her fair share to contend with over the years that leaves little doubt how she ever got to be so big:
- Being the "fat" friend in high school despite being a size 10
- Developing a "reputation" making poor choices in the Navy
- Got unexpectedly pregnant and married the father of the baby
- Lost the baby and then lost another one soon thereafter
All of these major events in Shayne's life led her into a deep depression that she could only soothe with the choice drug for so many in this world: FOOD! She says her weight was once registered at 296 pounds, but wouldn't be surprised if it actually got above 300.
Like most of us overweight and obese people, Shayne TRIED to lose weight by any means necessary, including vegetarian. But they didn't work and she kept feeling worse and worse.
When she visited her doctor he said she had PCOS and needed to go on the SugarBusters diet. Combined with an aggressive four-hour-a-day exercise routine, Shayne started losing weight and got down to 235 pounds.
But then her life changed again when she got a job and got pregnant again. The exercise she was once committed to so faithfully was becoming a fading memory and she eventually gained back all of the weight she had lost.
In the years that followed, she tried SugarBusters, Atkins, the Mercola diet, and even something called metabolic typing. But it wasn't until Shayne read a post on a forum message board about the
meat and egg fast/Kimmer's experiment
that she got serious about losing weight the low-carb way and "just did it."
Admitting there have been struggles along the way, Shayne said she refused to let them get her down because she was bound and determined to make this work for her this time around. She took her failures from her past and used them to motivate her to reach her goal. Now she has less than ten pounds to go to reach her primary weight loss goal.
WOW WOW WOW! Once again, Shayne, allow me to say how much I am proud of you for overcoming the defeats and demons from your past to become the glorious and victorious low-carb weight loss success that you are today. The joy you must feel right now is exhilarating and I rejoice with you as someone who understands the weight that has been lifted off of you not only physically, but also emotionally, through your amazing weight loss.
I pray that God will bless your life as you continue to shine as an example for others to follow when it comes to health, nutrition and weight loss. It may sound strange that people will start asking for YOUR advice about diet issues, but THEY WILL! I get it all the time and it is quite ironic considering how morbidly obese I was just a little more than two years ago.
You will be an awesome inspiration to so many people in the years to come as you continue to keep your weight off with the low-carb lifestyle. You really ought to start your own blog and share your story with the world, Shayne! :D Livin' La Vida Shayne! LOL!
If the readers at my "Livin' La Vida Low-Carb" blog are proud of Shayne Sherbert for her incredible low-carb weight loss success story, then how about sharing your comments with her by responding to this post below. We can all be encouraged from time to time and Shayne's accomplishment is DEFINITELY worthy of your sincere and positive feedback.
THANK YOU Shayne for leading the way and showing it can be done. You are a hero in my eyes and I salute you today for being such a remarkable example of what livin' la vida low-carb is all about. God bless you!