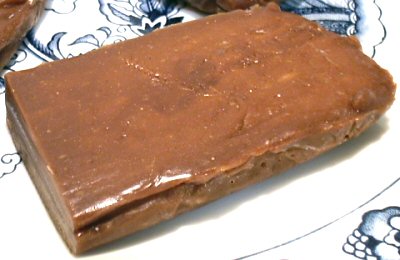 Linda's lick your lips low-carb peanut butter candy recipe
Low-carb blogger/vlogger
Kent Altena
is back in full form again (YEAH!) with
his low-carb YouTube video series
. Last week I shared his
video about how to make a quick and easy low-carb chocolate cake
. Today, he's got another something special up his sleeve.
Of course, this one once again comes from low-carb recipe queen Linda and her outstanding and comprehensive
recipe and menu web site
. I'm so happy to share her mouthwatering recipes with you in Kent's videos and you can access more of them at the
recipe thread at my new "Livin' La Vida Low-Carb Discussion" forum
where Linda herself is the moderator. Check it out!
The recipe Kent makes in this video is for a chewy low-carb peanut butter candy bar. Although he's gotten
some negative comments from a few people at YouTube
about the way this recipe looks, all that matters is that it TASTES FANTASTIC! I think you'll agree. :D
Here is Kent's video:
CHEWY LOW-CARB PEANUT BUTTER CANDY BAR
2 TBS butter
1/4 cup natural chunky peanut butter
1/4 cup Splenda
1 cup chocolate whey protein powder
1/4 cup DaVinci Vanilla syrup
1/4 cup Salted nuts (optional)
- Melt the Butter, and mix with Splenda.
- Add the Peanut Butter to the mix until smooth.
- Mix protein powder until crumbly
- Add DaVinci syrup, and the mix should turn glossy and much easier to form into 2 mini loaf pans
- Freeze mixture for 1 hour, and it should be able to be eaten.
For a slightly different variation, check out
Linda's version
.
Servings: 4
Calories: 220
Fat: 15g
Protein: 17g
Carbohydrate: 6g
Dietary Fiber: 1g
Net Carbs: 5g
By the way, Kent will answer the question "How should low-carb endurance athletes hydrate themselves?" in his next video. Gatorade is loaded with sugar carbs, so what should a low-carber drink if they want to run a marathon? Kent shares from his own personal experience coming soon. I'll feature it here when it's on YouTube!
Labels: candy, forum, kent altena, Linda, low-carb, peanut butter, recipe, video, YouTube