Taking the dLife message to the urban streets this Sunday on CNBC
This Sunday, October 1, 2006, there is another brand new episode of the health-oriented CNBC program
dLife
that is chock full of some excellent information for people who are diabetic or are livin' la vida low-carb.
It will feature a segment helping diabetics and low-carbers make good choices about how they can cut down on the carbohydrates their bodies don't need when dining out in a fast food restaurant (if you must!). My friend
Carla Gray from "The Low-Carb Fast Food Diet"
would be so proud. :)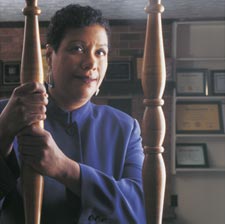 Brown and Coleman care very deeply about improving minority health
Also, you won't want to miss a special interview discussion featuring comedian and dLife host
J. Anthony Brown
as he tours the streets with minority diabetes health expert
Dr. Lenore Coleman
talking about diabetes in the hood and what can be done to slow the exponential increases of Type 2 diabetes among the African-American population in America. You WON'T want to miss this!
Tune in to dLife on Sundays at 7:00pm for diabetes info you can use
Remember to watch
dLife
on Sunday night at 7:00PM EST on CNBC!
Labels: carbs, diabetes, dLife, fast food, low-carb, minorities, television