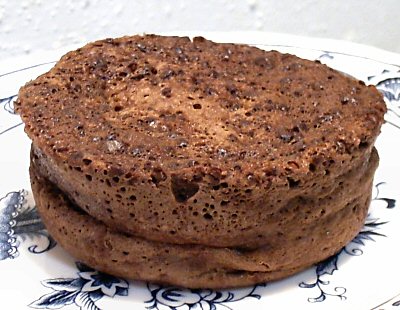 Who says you can't have chocolate cake on a low-carb diet?
Just mention to someone that you're on a low-carb diet and I'll bet the first thing that starts rolling off their tongue are all the foods you CAN'T eat. No rice, no pasta, no this, no that--yadda yadda yadda.
Let me tell you something. Livin' la vida low-carb isn't about deprivation, but rather dedication to making healthier choices that will be keeping me around for many more years than my old habits would have. It's all about living better than I ever thought possible while still enjoying some rather decadent treats along the way.
One such treat that you can have on the low-carb lifestyle is featured in a brand new video (FINALLY!) from my friend and fellow low-carb blogger
Kent Altena
. Kent is like a low-carb brother to me and our stories are VERY similar--we're the exact same age and height, we both love politics, we both started our low-carb journeys weighing 400+ pounds, we read and followed by the book
Dr. Atkins' New Diet Revolution
, we both lost around 200 pounds on low-carb, we both share about the low-carb lifestyle in our blogs, and we both currently weigh 220 pounds.
Oh, and with
my recent foray into the world of YouTube
, that's something else we both do now, too. However, after having a quite prolific run of excellent videos in 2006, Kent's been MIA for most of 2007 except for
this cheesecake recipe
back in January.
But he has a GREAT excuse. Besides working full-time and being a devoted husband and dad, Kent has also taken up marathon running since losing his weight. He's been
setting some personal bests
as he prepares for the BIG ONE. We're all so proud of you, Kent, and wish you well as you continue pursuing this dream. Go get 'em, buddy!
Here's that amazing recipe compliments of
Linda's Low Carb Menus & Recipes
:
You'll hear a quick update from Kent at the end of his video today featuring that mouthwatering, flourless low-carb chocolate cake--which has become his wife's FAVORITE low-carb comfort food with a dollop or two of some Splenda-sweetened whipped topping. Mmmm mmm!
In fact, Kent says if you let this recipe cool down, then you can actually cut the cake in half to make a low-carb "Oreo" or ice cream sandwich. As I tell Christine when I eat something like this that's low-carb, "I'm suffering on my low-carb diet!" HA!
Here is the basic recipe that Kent used in his video:
3-MINUTE FLOURLESS LOW-CARB CHOCOLATE CAKE
1 TBS Butter, microwave for 10 seconds to soften
1 Egg
1 TBS Da Vinci SF Vanilla syrup
2 TBS Splenda
1 TBS heavy cream
Pinch salt
2 TBS cocoa
Mix together all the ingredients until it is as smooth as possible. It should look similar to cake batter at this point. Microwave for 1 minute. For the special treat, add 1 TBS of whipped heavy cream (sweetened with Splenda).
Makes 1 serving
With granular Splenda:
267 Calories
23g Fat
9g Protein
11g Carbohydrate
4g Dietary Fiber
7g Net Carbs
You can also access several other alternate versions of this same recipe using liquid versions of Splenda, mayonnaise and other such ingredients at
Linda's web site page for this outstanding recipe
. If you like this recipe, then you'll be pleased to know that Linda herself is the moderator of my Recipe thread at my
"Livin' La Vida Low-Carb Discussion" forum
(sadly, it's been down for a few days, but I hope to have it back up and running real soon!).
In the meantime, WELCOME BACK KENT and I encourage you to keep those videos rolling, my friend. You have such a unique perspective that needs to be heard early and often. If you haven't already, then be sure to
subscribe to Kent (bowulf) Altena's videos
. Show him your support and
THANK HIM in an e-mail
for the excellent work he is doing on behalf of livin' la vida low-carb!
Labels: chocolate cake, dessert, diet, kent altena, Linda, low-carb, recipe, Splenda, video, YouTube